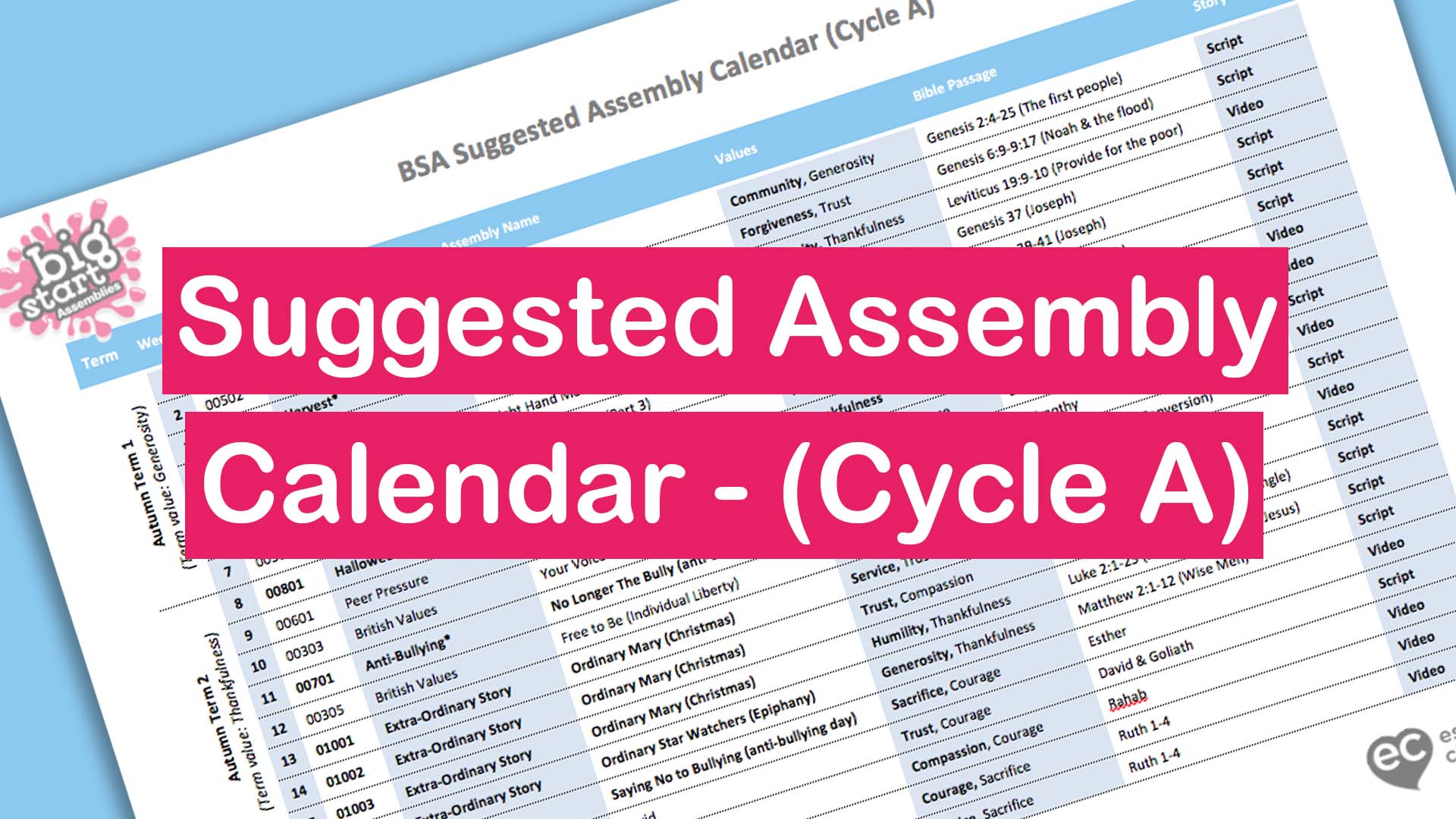 Helping save you time planing collective worship…
Each Summer we plan to share a suggested assembly resources calendar. This calendar gives an optional guide for how we think you could effectively spread out your Big Start Assemblies across the year. It creates a journey through the year exploring the different values. Additionally, it takes into account particular festivals and dates in the year including things like Easter, Halloween, Christmas and Harvest, but also special days like anti-bullying day or mothering Sunday.
It's a Word document allowing you to adapt it for your school. You can of course mix and match or make your own calendar, but you might find this a big help in your planning. Download the calendar using the link below.
Suggested-Assembly-Calendar-Cycle-A
The bigger picture for KS1 & KS2 assembly time…
We think collective worship is most effective when organised with a bigger picture. We don't want to just make resources then leave you in the lurch. Collective worship is one of the most important parts of school life. For Key Stages 1 and 2, it teaches important life values not covered elsewhere in the curriculum.
Assemblies are usually the only time a school is all together in one room. The values and lessons you unpack in collective worship can impact your entire school's culture. Our assembly resources will be most effective if you adopt some of the values and themes into wider school life. Many assemblies include classroom reflections appropriate to Key Stage 1 and Key Stage 2. This allows you to continue unpacking themes and values throughout the week. Our assemblies also normally have more material than you can fit into one assembly. You can take sections to use in other contexts, or even spread the assembly plan and resources over two collective worship sessions.
Help us improve our assembly resources…
We are always keen to hear how we can adapt and make these resources even more suitable for use in primary schools. Collective worship should be as awesome, fun and engaging as possible. We can only do that with your feedback. Feel free to comment below if there are particular things we can do to help equip your primary school for its collective worship and assembly times.
Not using our multi-media collective worship resources yet?
Our resources are specially written by internationally acclaimed story teller, writers, teachers and educational specialists. Our films are created by  professional film makers, actors and directors. Our packaged assemblies are tested and used by head teachers and teachers all over the country. If you are not yet a Big Start Assemblies member, find out more on our home page or sign up for a sneak peek here.